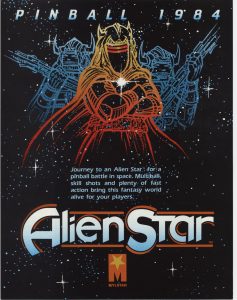 1984 Gottlieb Alien Star Pinball Machine
by Mylstar Electronics, Inc. (1983-1984)
[Trade Name: Gottlieb]
One of only 1060 ever made, this is a fine example of an Alien Star pinball machine manufactured by Mylstar Electronics, Inc. (Trade Name: Gottlieb) back in late 1983 into early 1984.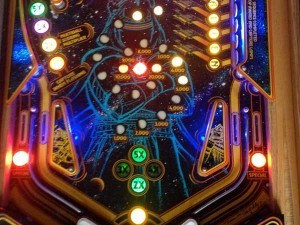 Alien Star has a very simple, single level play field designed by John Trudeau.  The art work is awesome, it features a star field background scheme and a poised alien with folded arms almost in constellation form just staring the player down.
The backglass art also features the same alien, more defined with bright yellow and orange hues, and two warrior aliens in the background, all centered below the Alien Star text.
There are 5 targets midway up on the right hand side which spell A-L-I-E-N.  When completed, they light the lock.  To capture the first ball and begin a 2-ball multi ball, you need to land in the gobble hole midway up on the left.
There's a spinner on the left hand orbit which changes the multi ball multiplier from 2X to 3X or 5X.  Preferably, you'd want to start multi ball with the 5X multiplier.  When you do that and roll down the right in-lane, you can get the spinner to be multiplied by 10,000 – on 5X multi ball, that's how you rack up the mega points.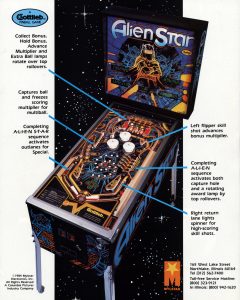 Above the left orbit are 4 rollover switches which spell S-T-A-R.  Completing all 4 of those awards one of 4 prizes – Collect Bonus (S), +1X Bonus Multiplier (T), Hold Bonus (A), or an Extra Ball (R).
Hitting any of the 3 pop bumpers will change which award is lit.  You can only collect an award when all 4 STAR letters are lit.  It is also possible to have all 4 awards lit.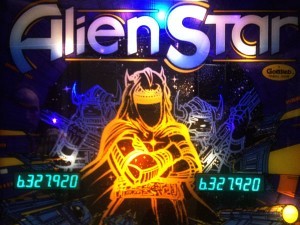 Rolling down the left in-lane generates the ability to shoot the upper right orbit just perfectly so the ball hooks around to the left, above the pop bumpers, and hits the target at the end within the countdown timer limit to increase the end of ball bonus multiplier x1.
"Journey to an Alien Star, for a pinball battle in space. Multiball, skill shots and plenty of fast action bring this fantasy world alive for your players."
In summary, Alien Star is a very challenging, fast paced, fun layout, awesome sounds, and can be very addicting. Super hard to complete the Alien targets to lite the ball lock, plus get the spinner on 5x before you start it, and if you can do all that and get the ball to roll down the right inner flipper return lane, you'll activate the 10X spinner for super mega points. This thing is a quarter killer!